New York City serves as a unique testbed for Urban Hydro-meteorological Studies
Located where the Hudson and East rivers empty into one of the world's premier harbors, New York is both the gateway to the North American continent and its preferred exit to the oceans of the globe. New York is the most ethnically diverse, religiously varied, commercially driven, famously congested, and, in the eyes of many, the most attractive urban center in the country, that also has many unique environmental issues. As the planet warms, New York City faces rising seas and extreme weather. The current study is inspired by vagaries of weather events within the five (5) boroughs of NYC as witnessed and documented in many studies. The 2019 report by the NY panel for climate change (NPCC),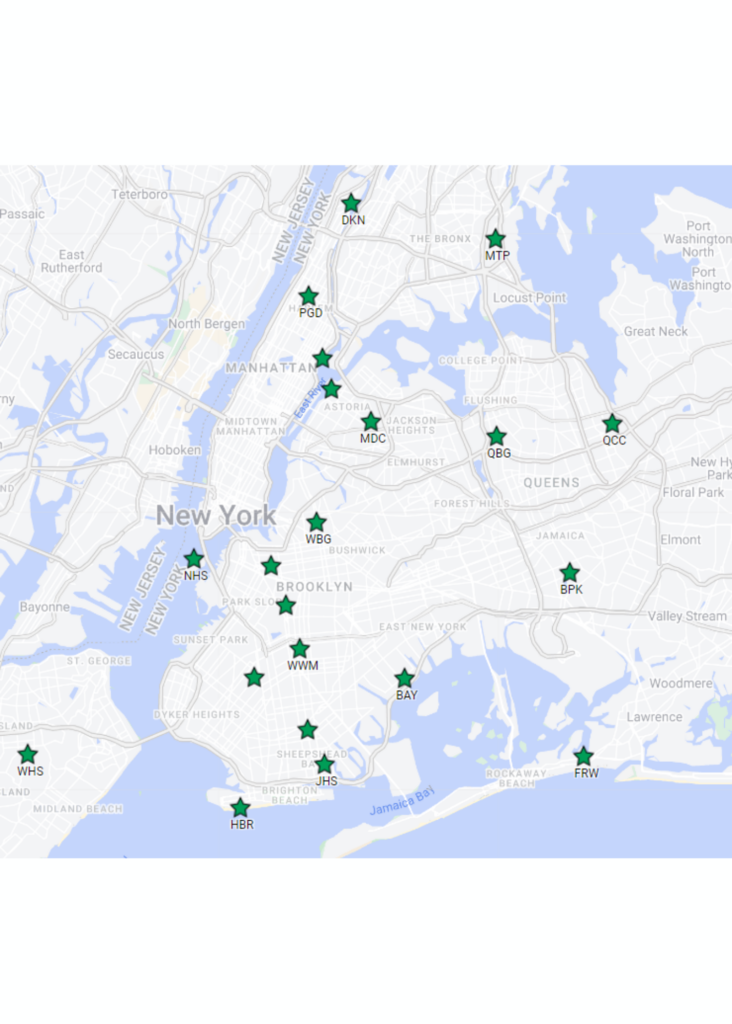 released recently, finds that climate change is increasingly present in everyday New York. Extreme weather events are becoming more pronounced, high temperatures in summer are rising, and heavy downpours are increasing. Records show that maximum daily summer temperatures have been rising at rates of 0.5°F per decade at JFK Airport and 0.7°F per decade at LaGuardia Airport since 1970. Sea level recorded at The Battery in lower Manhattan continues to rise at a rate of 0.11 inches per year since 1850. The changes in temperature and precipitation that New Yorkers are experiencing are broadly tracking the climate change projections made by the NPCC in 2015. However, the report notes that such comparisons should be viewed with caution because of the role that natural variation plays in the short term. To understand the challenges of the variability of the weather in cities like NY, a suite of weather sensors are being deployed throughout the city to pragmatically assess the vagaries of weather
phenomenon to help understand various events including urban heat stress, flash floods, etc. Twenty (20) weather station sites named urban-HydroMet Testbed (uHMT) were carefully selected in four (4) boroughs of the NY city to get more in-depth and cross-sectional weather real-time data to support research studies on weather, water, and climate. These studies and weather data will help build a strong network of citizen science and community engagement across the city that also include several public schools, community colleges, one public library, botanical garden and several NY City
Housing Authority (NYCHA) real estates. K12 curriculum often lacks inquiry-based, engineering and technology-oriented lessons and contents. The study where NY City primarily serves as an environmental lab will help K12 students and educators connect their lessons with the real-world environmental problems beyond the classroom settings, since most of these stations are located within the school premises. The data produced from these stations will be available to public, agencies and researchers through open access servers located at the CUNY CREST Institute in the City College of New York.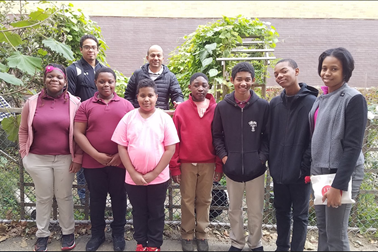 The New York Urban Hydro-meteorological Testbed (NY-uHMT) autonomous weather stations monitors both meteorological and hydrological conditions around NYC regions. These stations measures air temperature, relative humidity, precipitation, and soil moisture every 15 minutes each day. These data are used to validate NOAA' satellite data products and create a high-resolution urban Flash Flood Guidance (uFFG) and Hazard Warnings system to help city officials and emergency managers make informed decisions during the occurrence of extreme weather events.
Several student scholars are engaged in this project, one such undergraduate scholar and an Environmental Engineering major at the City College of NY – Jessica Chiu, personally found the weather installation experience very valuable and insightful. She considered this experience of assembling and successful installation of the stations through NY city region as a rare opportunity – which enabled her to interact with NY residents and community who were intrigued and engaged. For her, visiting these sites was a reminder of the importance of publicly available data relevant to weather that influences their day-to-day lives. She also felt how critical it is to provide STEM educational opportunities to the young students to help empower them to become the next generation STEM professionals.
Jessica said, "Most workdays include looking at the station data through a computer screen, but the scope of the project is much more than just that- as a researcher, the main purpose of a project can get lost in numbers and data crunching. Instead, the NY-uHMT project constantly reminds the researchers involved that it is just as important to connect with the people involved in providing the valuable information as it is to study and understand the research behind such data and information".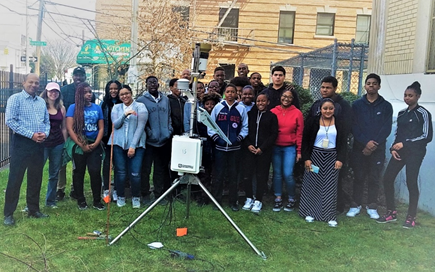 CREST researchers plan to create a robust earth system science and engineering concept-based curriculum using the uHMT data products. It is imperative that the K12 educators be well equipped and trained by creating learning modules that reflect the 21st century environmental problems and integrates the innovative technology and data-rich strategies that will help produce more successful and college-ready HS graduates. Such resources will help supplement and augment the existing curriculum with compelling online resources and hands-on activities. The teachers from the participating NYC public schools who have an interest to promote and integrate hands-on learning pedagogy on weather, water and climate will use these curriculum and education resources. One central outcome from this initiative will be emergence of mathematics and science educators, STEM leaders with knowledge of weather concepts and experience of using rich and visual data resources, and eventually help creating the NY uHMT citizen science project.
Locations of Weather Stations across the New York City
| | | | | |
| --- | --- | --- | --- | --- |
| Site Location | Type | Address | Latitude | Longitude |
| Queens Botanical Garden | Garden | 43-50 Main St, Flushing, NY 11355 | 40.75062 | -73.82873 |
| Queensborough Community College | College | 222-05 56th Ave, Bayside, NY 11364 | 40.75685 | -73.7562 |
| Ronald Edmonds Learning Center MS113 | School | 300 Adelphi St, Brooklyn, NY 11205 | 40.68843 | -73.97116 |
| James Madison High School | School | 3787 Bedford Ave, Brooklyn, NY 11229 | 40.609793 | -73.948326 |
| Middletown Plaza | Housing | 3033 Middletown Rd, Bronx, NY 10461 | 40.84375 | -73.83107 |
| Dyckman Houses | Housing | 3754 10th Ave, New York, NY 10034 | 40.86086 | -73.92219 |
| Williamsburg Houses (WBG) | Housing | 176 Maujer St, Brooklyn, NY 11206 | 40.71064 | -73.94253 |
| Eagle Academy for Young Men of Harlem | School | 6 Edgecombe Ave, New York, NY 10030 | 40.81738 | -73.947514 |
| Far Rockway | Housing | 38-20 Beach Channel Dr, Far Rockaway, NY 11691 | 40.59684 | -73.77221 |
| BayView | Housing | 61 Pike St, New York, NY 10002 | 40.63361 | -73.88611 |
| Baisley Park | Housing | 116-45 Guy R Brewer Blvd, Jamaica, NY 11434 | 40.68531 | -73.78296 |
| East River | Housing | 418 East 105TH Street, NY, NY 10029 | 40.78849 | -73.94018 |
| Astoria Houses | Housing | 4-25 Astoria Blvd, Astoria, NY 11102 | 40.77306 | -73.93289 |
| Haber Houses (Coney Island) | Housing | 2410 Surf Ave Brooklyn, NY 11224 | 40.57338 | -73.99098 |
| Walt Whitman Middle School | School | 72 Veronica Place Brooklyn, NY 11226 | 40.64836 | -73.95343 |
| JHS 14 Shellbank Intermediate School | School | 2424 Batchelder St, Brooklyn, NY 11235 | 40.59292 | -73.93793 |
| BASE High School, Brooklyn Botanical Garden | School | 883 Classon Ave, Brooklyn, NY 11225 | 40.67004 | -73.96102 |
| Mary D. Carter School (PS151Q) | School | 50-05 31st Ave, Woodside, NY 11377 | 40.75761 | -73.90819 |
| Montauk Intermediate School | School | 4200 16th Ave, Brooklyn, NY 11204 | 40.63489 | -73.98183 |