CUNY CREST Research Professor Becomes the Next Leader of the United Nations' Water Think Tank
August 18, 2022
CCNY, New York, NY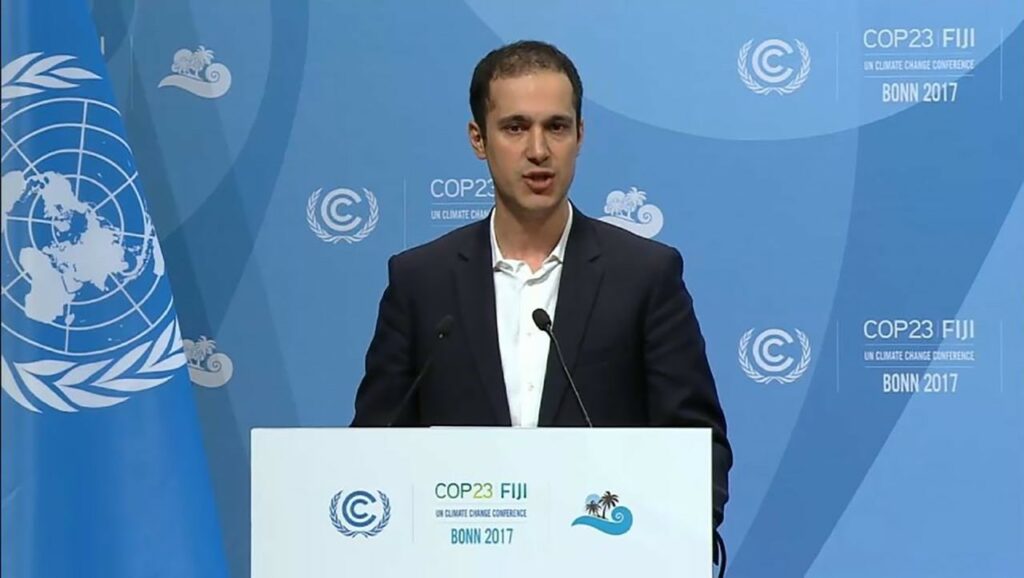 Known as the UN's water think tank or water university, UNU-INWEH is the United Nations academic arm that focuses on addressing pressing global water security challenges around the world. The institute was created in 1996 in response to an emerging concern about the growing global water crisis and its harmful impact on human and environmental health and sustainable development. Since then, it has made major contributions to advancing global policy-relevant to the water research and contributed to several major UN events and reports, including the 2018 High-Level Political Forum on Sustainable Development and the SDG 6 Synthesis Report.
UNU-INWEH serves as a translator of evidence-based research for UN and international policy makers, and as a bridge between the UN and the global academic world. The institute represents the UNU in UN-Water, the United Nations inter-agency coordination mechanism for all freshwater-related matters, including sanitation. It also leads the UN-Water efforts to support the UN-wide International Decade for Action on "Water for Sustainable Development" (2018–2028).
"Dr. Madani has been instrumental in shaping CUNY CREST's growing research, capacity building, outreach and advocacy efforts in the domain of environmental justice and to reduce the vulnerability of disadvantaged communities in the United States and around the globe due to the climate and weather related extreme events", said Dr. Reza Khanbilvardi, CUNY CREST Executive Director and Professor of Civil Engineering in CCNY's Grove School of Engineering. "His new leadership position further strengthens CUNY's ongoing collaboration with the UN and increases our positive global impact on water science and policy, especially in the global south."
A renowned environmental scientist, and activist, Kaveh joined CNNY from Yale in 2021. Kaveh has a unique combination of experience in high-level policymaking, prominent practice-relevant research, and high-impact societal interactions. He's an international authority on modeling and managing complex human-nature systems who's previously served as a Vice President of the United Nations Environment Assembly (UNEA) Bureau, overseeing the world's highest-level decision-making body on environment.
Dr. Madani has, in addition, been involved in high-level global climate change negotiations and served as Iran's Deputy Vice President and the Deputy Head of the country's Department of Environment. Madani has an outstanding record in bridging the gap between academic theory and practice by addressing progressive and socially significant problems. He's also communicated his findings not only to other researchers and policy makers, but to the public in order to raise awareness around key environmental issues globally.
Madani is a Fellow of the American Geophysical Union (AGU) and the Environmental and Water Resources Institute (EWRI). He has received numerous awards including the New Face of Civil Engineering (ASCE), Hydrologic Sciences Early Career Scientist Award (AGU), the Arne Richter Award for Outstanding Young Scientists (EGU), the Walter Huber Civil Engineering Research Prize (ASCE), and the Ambassador Award (AGU).
Madani's research portfolio spans the areas of engineering, natural sciences, systems analysis, economics, public policy, politics and social? behavior. He works at the interface of science, policy and society on complex human-nature problems involving water, energy, food, climate and environment. His research in North America, Europe, Africa, Asia and Middle East covers issues such as water management, environmental policy, diplomacy and justice, energy systems, food security, climate change impacts and adaptation, sustainable development, green recovery and transboundary conflicts and negotiations.
He holds a PhD from the University of California, Davis, held a tenured faculty position at Imperial College London and has taught at several leading academic institutions around the world. Reuters has profiled Madani in its 2021 Hot List of Climate Scientists
Madani will take up the post UNU-INWEH Director early next year replacing Vladimir Smakhtin of Russia who has led the institute since 2016. He will continue to provide advice and contribute to CREST-Institute's growth in a national and international level.
"On behalf of the CUNY's large family, I congratulate Dr. Madani for this prestigious achievement", said Khanbilvardi. "This is a strategic? and promising decision by the United Nations University to bridge the gap between science and policy to promote integrated water resources management and fulfil the UN SDGs (Sustainable Development Goals) ", Khanbilvardi added. "I am thrilled that one of ours is now in this globally acclaimed leadership position that will mutually benefit and support the CUNY CREST mission and vision. CUNY CREST will remain committed to support him in this leadership role to improve water security, access and sanitation globally through the advancement of earth system sciences and application of remote sensing technology as well as other emerging technologies".
About the CUNY CREST Institute
The CUNY Remote Sensing Earth System Institute, headquartered at the City College of New York, was officially approved by CUNY Board of Trustees in June 2010. The goal of the Institute is to serve as a CUNY-wide Institute of Excellence in Advancement of Earth System Sciences and application of Remote Sensing Technology as well as other emerging technologies. The Institute serves as a major hub of outstanding interdisciplinary research across CUNY colleges. The institute is designed to be a collaborative environment from faculty and scientists from different CUNY campuses to be able to work together in a variety of topics related to earth system sciences. The institute's collaborative environment will enhance the advancement of science at CUNY and will create opportunity to attract external support.