CUNY CREST HIRES Director, Dr. Shakila Merchant was invited to participate in the 2023 eeBLUE Young Changemakers Summit held at the Herbert C Hover Department Commerce Building, in Washington, DC from July 19 to 22, 2023.
The eeBLUE Young Changemakers Fellowship (YCF) is a new one-year pilot initiative created for young people to influence decision-making by National Oceanic and Atmospheric Administration (NOAA) in partnership with National American Association for Environmental Education (NAAEE). The year-long program will help high school students' voices/perspectives on ocean and environmental issues reach the NOAA leadership. More information on the effort can be found here.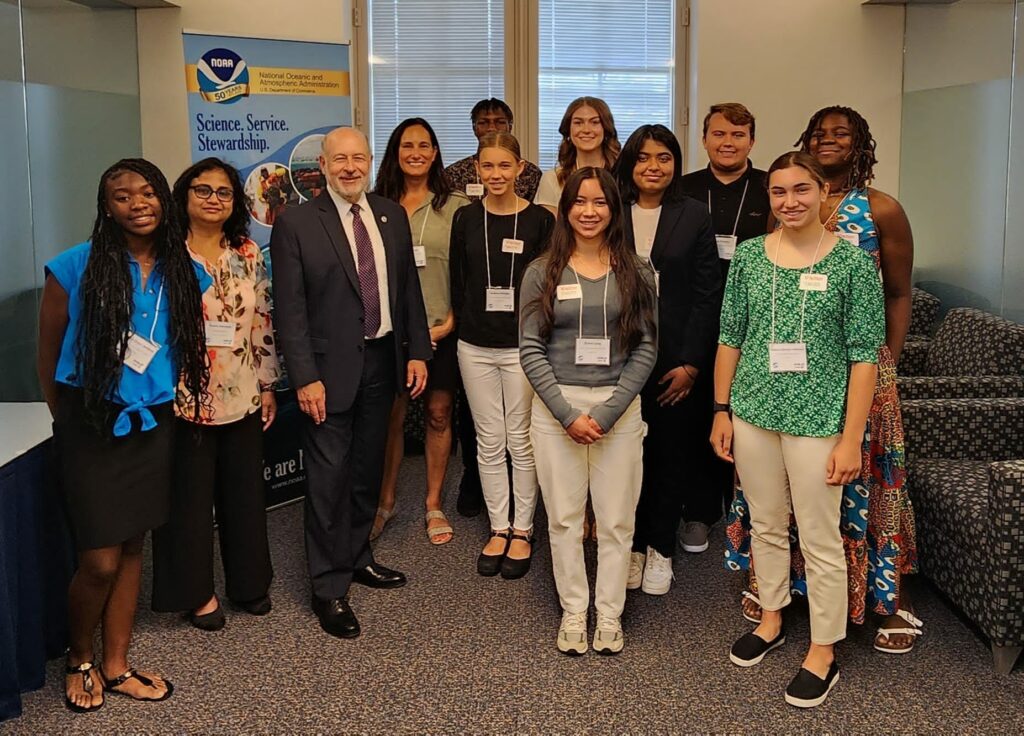 Dr. Rick Spinrad, Under Secretary of Commerce for Oceans and Atmosphere and the 11th NOAA Administrator, introduced NOAA while Judy Braus, Executive Director of NAAEE, talked about the agency's commitment towards youth engagement and collaboration with NOAA on YCF. Further, participants attended the Community Need-Finding workshop where they learnt about ways to identify their community's strengths and potential areas for improvement, and the Youth Advocate Panel where youth outside of the YCF program talked about how they are making an impact on ocean and environment. Ms. Nicole Bartlett of NOAA Regional Collaboration Network Coordinator for North Atlantic Region and Dr. Shakila Merchant, CUNY HIRES Director, were invited by Dr. Lauren Gibson, first-ever advisor on youth engagement to the NOAA administrator, to participate in the community project planning workshop for the participating youths that included some hands-on tips and insights on Community, Project Planning; Clear Communication, and Pro-tips for Emerging Professional. The event also included a meet-and-greet with Secretary of Commerce, Gina Raimondo; walk to the wilderness society; and a closing reflection activity and discussion with Dr. Spinrad on their experience of the summit along with future plans.
The group of young changemakers who participated in the summit included:
1. Eloise Lang (she/her) – Fletcher, North Carolina
2. Hadiya "Diya" (she/her) – Bristol, Connecticut
3. Kennesha Garg (she/her) – Fremont, California
4. Audrey Hufnagel (she/her) – Damariscotta, Maine
5. Bryce Barclay (he/him) – Snellville, Georgia
6. Cole Perkins (he/him) – Naples, Florida
7. Uriahnur "Moon" (she/her) – Clinton, Maryland
8. Rebecca "Becky" Hoffmann (she/her) – Clinton, Maryland
9. Jillian Stanton (she/her) – Allen, Texas
Dr. Merchant is a strong advocate of youth development and K12 STEM education particularly focusing on high school students. She is the director of the CUNY CREST High School Initiative in Remote Sensing of the Earth Systems Engineering & Sciences (HIRES) program. For the last 10 years, HIRES has successfully provided advanced STEM research training in NOAA mission enterprise to NYC high school students particularly the first generation, underserved and minoritized students. Commenting on her experience of the summit, Dr. Merchant said, "Early engagement of the students is critical in grooming them to become the next generation of STEM leaders. It is exciting to see NOAA leadership's commitment in youth empowerment and to believe in the passion and knowledge that many young people can bring to ocean and climate issues, science and policy"
The summit was engaging and a great medium to encourage the youth to think about ways to make an impact in their communities, particularly in ocean and environment. The youth changemakers will spend the 2023-2024 working on their community project with guidance from NOAA mentors, and will meet with NOAA leadership periodically to give insights into the agency's direction based on their perspectives and lived experiences as young people.