United Nation 2023 Water Conference Side Event Symposium at CUNY
---
The UN 2023 Water Conference was held during March 20-24 in New York City. This Conference which was co-hosted by the Governments of Tajikistan and the Netherlands was designed to mobilize Member States, the UN system and stakeholders to take action and bring successful solutions for water issues in the 21st Century on global scale. This was the first time in 46 years that the UN has held a water conference.
Drs. Kaveh Madani and Jennifer Cherrier, Co-Directors of "Environmental justice and Social Sciences", and "Research and Application" of CUNY-CREST Institute, respectively, attended this great event.  In addition, Professor Jennifer Cherrier, from Brooklyn College together with Alan Cohn at the NYC-DEP co-organized a UN 2023 Water Conference Side Event Symposium. The Symposium was titled: "Meeting Urban Stormwater and Coastal Resiliency Challenges via Cross-Sectoral and City to City Collaborations".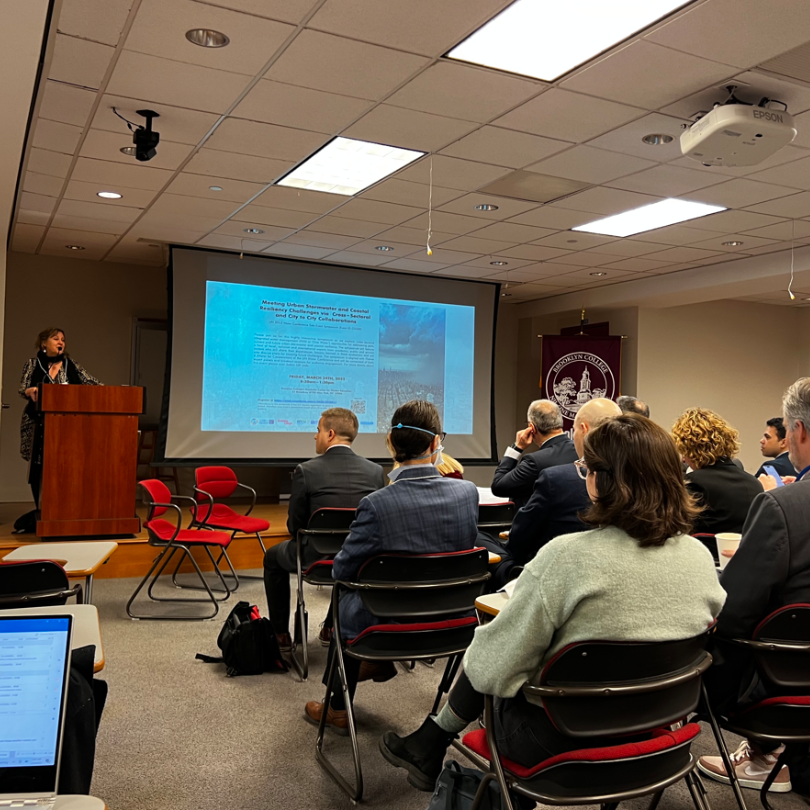 This one-day long symposium was held on Friday March 24th at the Center for Worker's Education of CUNY in lower Manhattan. The goal of the symposium was to bring together national and international experts from academia, public and private sectors who are currently engaged in cross-sectoral integrated water management approaches for urban stormwater and coastal resiliency.  Specifically, it provided a forum it provided a forum to build or strengthen partnerships and for attendees to share their experiences, lessons learned in the work they've done in this space and to discuss plans for meeting future challenges.
The symposium was aligned with Theme 4 (Water for Cooperation) of the UN Water Conference and comprised of both expert panels and breakout sessions for audience engagement.  Some of the speakers in this evet were Ahmed Aboutaleb (Mayor of Rotterdam, Netherlands), Carrie Grassle (NYC Mayor's Office  Deputy Director of Climate Ready Adaptation), Mazdak Arabi (Director  of One Water Solution Institute, CSU), Pinar Balci (NYC DEP, Deputy Assistant Commissioner, Bureau of Env. Planning and Analysis), Lykke Leonardsen (Head of Resilient and Sustainable City Solutions, Copenhagen Municipality), Sachin Bhoite (Director of Climate Resilience, C40 Cities),  just to mention a few.  More than 100 professionals, scientists, practitioners, students, and stakeholders attended this very productive symposium.  The symposium was followed by an informal student roundtable discussion with symposium panelists. This event was also well attended.