About JPSS SPARKS
JPSS – Students Professional and Academic Readiness with Knowledge in Satellites (JPSS–SPARKS)
JPSS SPARKS  is designed to build a gateway for future graduates to become involved in the Joint Polar Satellite System (JPSS) mission at the National Oceanic and Atmospheric Administration (NOAA).  JPSS encompasses the current and future wave of polar-orbiting satellites that will offer a vast amount of data on weather and environmental data through the year 2030 and beyond.  Through this joint instructional and workforce internship initiative, CREST introduce students from the City University of New York and affiliated colleges and universities which seek to provide quality education to students regardless of their background or means.  Through this program, interns may have the opportunity to transition into NOAA careers, potentially using the JPSS mission to launch their early careers.  These new employees will bring cutting edge knowledge from academia while simultaneously increasing the percentage of often underrepresented minorities in the NOAA workforce.
In order to achieve this goal, CREST has partnered with IM Systems Group.  IM Systems Group (IMSG) is a contracting company for several JPSS projects at NOAA.  New hires often begin their careers at NOAA through a contracting company such as IMSG.  However, IMSG and many other private sectors have seen disconnect between the knowledge (both classroom and research training) gained by the student in an academic setting and the skills required at NOAA.  Academia has typically adapted to teach cutting-edge programming languages and tools that will give their students more advantages in performing research.  These skills are highly sought throughout the world including at NOAA.  However, satellite algorithms are often inherited from prior missions dating back over thirty years.  In order to adapt to the NOAA environment, new hires need experience in the earlier programming languages that were popular when these algorithms were first written, so that they can maintain and improve these algorithms for future missions.  Potential new hires, especially directly out of universities, are often overlooked because they are missing these NOAA-critical skills.
---
JPSS SPARKS 2019  (Application has closed) !! 
Download Flyer/OverviewJPSS-SPARKS-2019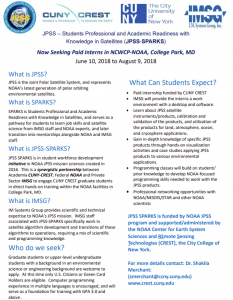 JPSS is the Joint Polar Satellite System, and represents  NOAA's latest generation of polar orbiting  environmental satellites.  Graduate students or upper-level undergraduate  students with a background in an environmental  science or engineering background are welcome to  apply.   Computer programming  experience in multiple languages is encouraged, and will  serve as a foundation for training with GPA 3.0 and  above .
---
 A new initiative on student workforce development in NOAA mission sciences with focus on JPSS satellites
---
2.   JPSS SPARKS  2018 
The Phase II of JPSS SPARKS initiative was successfully launched in summer 2018. Three graduate students Arun Ravi, Ysabel Bannon from City College of New York and Christopher Bombach from University of Texas, El Paso, and one Undergraduate student Dilchand Nauth were recruited by the NOAA CREST center at the City College of New York.
Download full text     |    Presentation Overview 
---
3.  AMS 2019 – Session on "A STEM Learning Community of Practice Network"
This session aims to bring together STEM Advocates, Educators and Experts who have been on the journey of creating STEM Education program to building a diverse and competent STEM workforce.
---
IN OTHER THE NEWS….