The India Initiative for Research and Education Collaboration of CUNY CREST Institute (IICCCI) was officially launched on September 9, 2022, in the North Hall Library building, the Bronx Community College through a Memorandum of Understanding (MoU) signing ceremony. The MoU was signed by the President of Bronx Community College (BCC) Thomas Isekenegbe and the President of The City College of New York Vincent Boudreau witnessed by CUNY CREST Institute Executive Director, Dr. Reza Khanbilvardi and other guests from across CUNY, New York City and Government of India.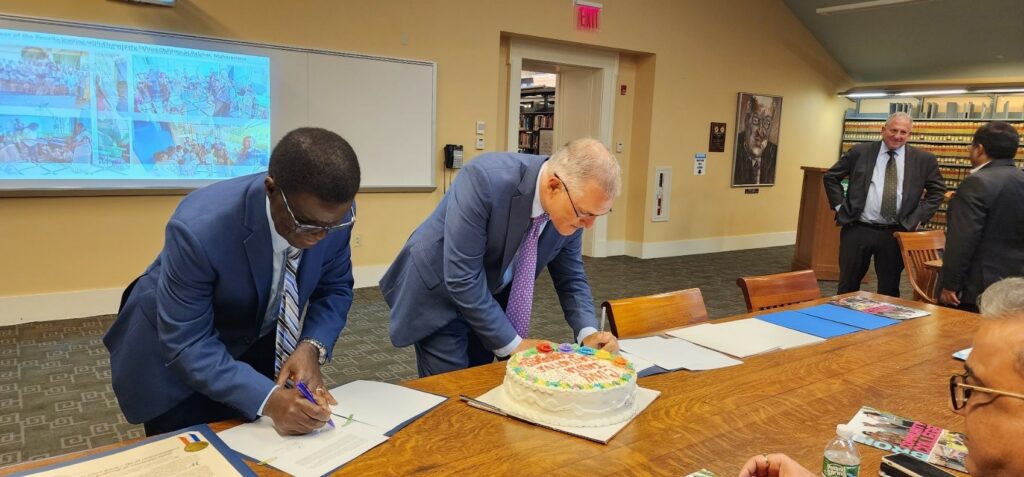 BCC has been active with academic partnerships in India since 2019.Under the leadership of Prof. Paramita Sen and Prof. Neal Phillip, a sustainability focused study abroad program to Maharashtra was undertaken with 15 BCC and other CUNY students where they installed a solar powered weather station and participated in other science and cross-cultural diplomatic activities.
Prof. Phillip and Prof. Sen from BCC have received several grants for their work in India. One of the grants is a public diplomacy grant from the US State Department to install six solar powered weather stations in three states and to conduct climate change workshops for over 5,000 participants. Another is a 3yr $300,000 National Science Foundation grant with Dr Brian Vant-Hull of CUNY CREST Institute to take 33 BCC/CUNY students to conduct air pollution research in Mumbai and New Delhi, beginning in January 2023.
The meeting opened with welcoming remarks and a presentation by BCC Professors Paramita Sen, Neal Phillip along with Dr. Shakila Merchant, Deputy Director of CUNY CREST Institute. They provided an overview of ongoing work and future collaborations with BCC, CUNY CREST Institute and India.

The MoU ceremony was followed by the ribbon cutting ceremony at the India Books Corner located within the Library and the signing of four CUNY approved Shared Statement of Interest (SSI) by the Indian Delegates from Maharashtra and President Isekenegbe.

Among the dignitaries who attended the event were Consulate General of India Honorable Randhir Jaiswal; Mrs. Abha Jaiswal, Deputy Consulate General of India; Dr. Varun Jeph, NYC Deputy Commissioner of Trade, Investment, and Innovation for International Affairs, Mr. Dilip Chauhan; Vice Chancellor of Dr Babasaheb Ambedkar Technological University (DBATU), Lonere, district Raigad and Vice-Chancellor of Savitribai Phule Pune University (SPPU), Pune. Maharashtra, Prof Karbhari Vishwanath Kale; Vice Chancellor of Shreemati Nathibai Damodar Thackersey (SNDT) Women's University Professor Ujwala Chakradeo; Vice Chancellor of new Vice Chancellor of the Maharashtra Animal and Fishery Sciences University (MAFSU) Professor Ashish Motiram Paturkar; and Dean of the Faculty of Technology and Professor and Head of the Dept of Technology, SP Pune University, Dr. Aditya Abhyankar; Mr. Yachneet Pushkarna CEO-Social Initiatives at the Govardhan Ecovillage in Maharashtra, India.; BCC Provost Lester Sandres Rapalo; VP Eddy Bayardelle, VP Bernard Gantt, VP Irene Delgado, AVP Richard Ginsberg, AVP David Taylor, Dean Luis Montenegro, Associate Deans Alexander and Manny Lopez and faculty and staff from various departments at BCC.

The Ceremonial event began with an opening remark by the BCC President Isekenegbe, followed by CCNY President Boudreau. NYC Deputy Commissioner Chauhan, who represented NYC Mayor Eric Adams, and had the privilege to read out NYC Mayor's Proclamation of IICCCI, which quotes –

"…When pandemic spread across out City and our nation, we were all reminded of our vast interconnectedness. That is why it is more important that ever that we build new bridges and promote the excellence and achievement of our partners abroad. The Institute will carry out its mission by securing our connections to India and illuminating those issues such as climate change, that affect us all. Today, as you gather to celebrate the opening of this powerful monument to friendship, global cooperation, and innovation, I am proud to applaud the IICCCI, and look forward to all that its scholars will discover hand-in-hand, shoulder-to-shoulder and byline-to-byline. Now I Eric Adams, Mayor of the City of New York do hereby proclaim Friday September 9, 2022 in the City of New York as India Initiative of Research and Education Collaborations of the CUNY CREST Institute DAY"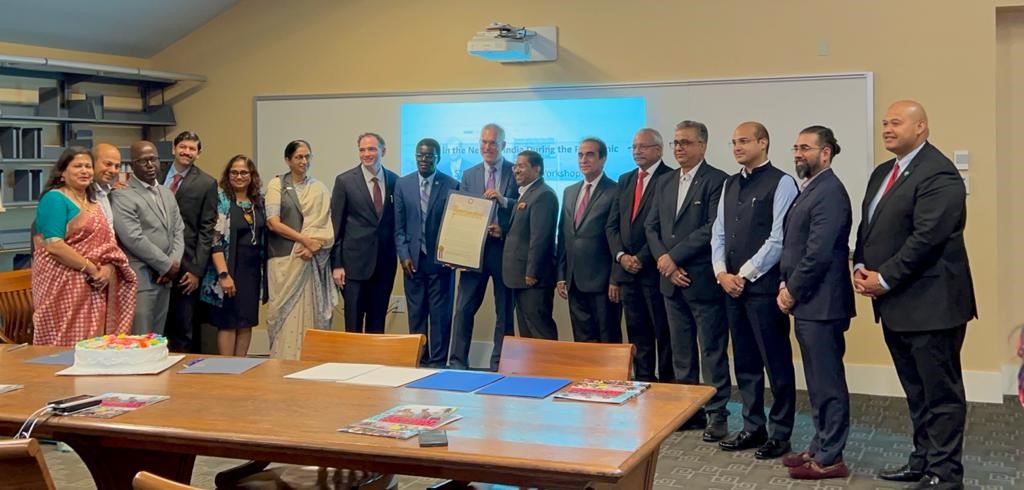 The IICCCI mission is to foster robust and inclusive cultural-social-academic synergism between CUNY and Indian academic institutions, federal entities and private enterprise.

In his special remarks, Honorable Consul General of India in New York, Randhir Jaiswal reminded us all of the 75 years of the Independence of India and the 75 years of diplomatic relations with the United States. Hon. Jaiswal also expressed his strong commitment and support to IICCCI's collaborative work with Indian counterparts.
Yachneet Pushkarna who represented the Government of Maharashtra and the Vice Chancellor Delegates from India, conveyed the Maharashtra Governor, Hon. Bhagat Singh Koshyari's message –

"…. It is indeed heartening to note that CUNY is working on Climate Initiatives with Indian Cities, particularly with Mumbai. I wish and hope that the partnership will further strengthen our collaboration in the domain of Higher Education as envisaged by the National Education Policy launched by the Honorable Prime Minister of India Narendra Modi…"

In his welcoming remarks, Professor Phillip, highlighted how the "Yatra" to Maharashtra, India began in 2019, when Professor Paramita Sen proposed a CUNY India Study Abroad program. The program became a reality and was spearheaded by Professors Sen and Phillip in conjunction with the IBM Smart City of Townsville, Australia and with the 15 BCC/CUNY students.

In his opening remarks, Executive Director of the CUNY CREST Institute Dr. Reza Khanbilvardi proudly took the audience down the memory lane of the history of strong partnership that continues to grow between CCNY and BCC and particularly with CUNY CREST Institute and expressed his gratitude and commitment for the CUNY India work that was started by Professors Paramita Sen and Neal Phillip in 2019, and will now be expanded and further strengthen by including more research and educational collaborations between Indo-US academic institutions through the IICCCI.
Soon after the ribbon cutting ceremony, the signing of the Shared Statement of Interests (SSI) between BCC and three state universities of Maharashtra State took place. Signatories from India were VC Karbhari Kale signed the SSI on behalf of DBATU, Raigad and SPPU, Pune, State of Maharashtra India; VC Ujwala Chakradeo on behalf of SNDT Women's University; Mumbai, State of Maharashtra, India; and VC Paturkar on behalf of MAFSU, Nagpur, State of Maharashtra, India.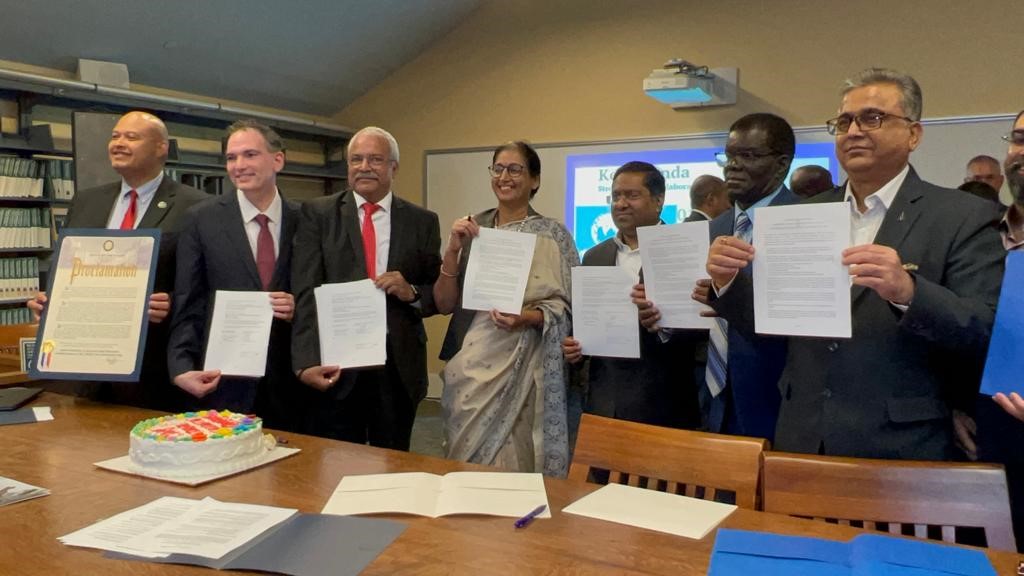 The Master of the Ceremony Professor Paramita Sen, concluded the event by thanking one and all who made this formulation of IICCCI and the MoU event possible.
---
---

About Bronx Community College
Bronx Community College of The City University of New York offers more than 40 academic programs that prepare students for careers and further education at four-year colleges. An array of transfer agreements and partnerships with other schools make BCC a pathway to success. Located on a 45-acre tree-lined campus, the College provides students with high-quality classes, outstanding faculty and course schedules that fit into their lives. BCC is a Hispanic Serving Institution (HSI), with students from some 100 countries. BCC is the first community college to be named a National Historic Landmark for its classic Stanford White-designed structures, including the Hall of Fame for Great Americans. BCC is a major cultural institution in the borough and an engine for economic mobility throughout the Bronx. For more information about Bronx Community College, visit www.bcc.cuny.edu.

About the CUNY CREST Institute
The CUNY Remote Sensing Earth System Institute, headquartered at the City College of New York, was officially approved by CUNY Board of Trustees in June 2010. The goal of the Institute is to serve as a CUNY-wide Institute of Excellence in Advancement of Earth System Sciences and application of Remote Sensing Technology as well as other emerging technologies. The Institute serves as a major hub of outstanding interdisciplinary research across CUNY colleges. The institute is designed to be a collaborative environment from faculty and scientists across the country and the globe to be able to work together in a variety of topics related to earth system sciences. The institute's collaborative environment enhances the advancement of science at CUNY by creating opportunity for stakeholder engagement.

About The City College of New York
Since 1847, The City College of New York has provided a high-quality and affordable education to generations of New Yorkers in a wide variety of disciplines. CCNY embraces its position at the forefront of social change. It is ranked #1 by the Harvard-based Opportunity Insights out of 369 selective public colleges in the United States on the overall mobility index. This measure reflects both access and outcomes, representing the likelihood that a student at CCNY can move up two or more income quintiles. In addition, the Center for World University Rankings places CCNY in the top 1.8% of universities worldwide in terms of academic excellence. Labor analytics firm Emsi puts at $1.9 billion CCNY's annual economic impact on the regional economy (5 boroughs and 5 adjacent counties) and quantifies the "for dollar" return on investment to students, taxpayers and society. At City College, more than 16,000 students pursue undergraduate and graduate degrees in eight schools and divisions, driven by significant funded research, creativity and scholarship. CCNY is as diverse, dynamic and visionary as New York City itself. View CCNY Media Kit.
Media Contacts:
Richard Ginsberg
AVP Communications and Marketing
The Bronx Community College
917-579-2122
CUNY CREST Institute