BCC and IICCCI Hosted a 2023 UN Water Conference Event on March 23, 2023
Through the efforts of CUNY CREST Institute faculty Prof. Paramita Sen and Prof. Neal Phillip, Bronx Community College (BCC) and the India Initiative for Research and Educational Collaborations of the CUNY CREST Institute (IICCCI) based at BCC was featured on the global stage when they hosted an official event of the 2023 UN Water Conference on the BCC campus on March 23, 2023.
The subject of the Conference was "Climate Resilience: Addressing Drought and Flood."  The event focused on assessing risks of drought and flood for mitigation resources, adaptation and innovation to combat the critical issues of communities around the world. BCC was chosen as site for this event because of the strong collaborations established by Prof. Sen and Prof. Phillip with India in the area of climate change and related areas. Prof. Sen and Prof. Phillip are both faculty in the BCC Department of Chemistry, Earth Sciences and Environmental Sciences and Professor Sen is Director of IICCCI and Prof. Phillip is one of its Associate Directors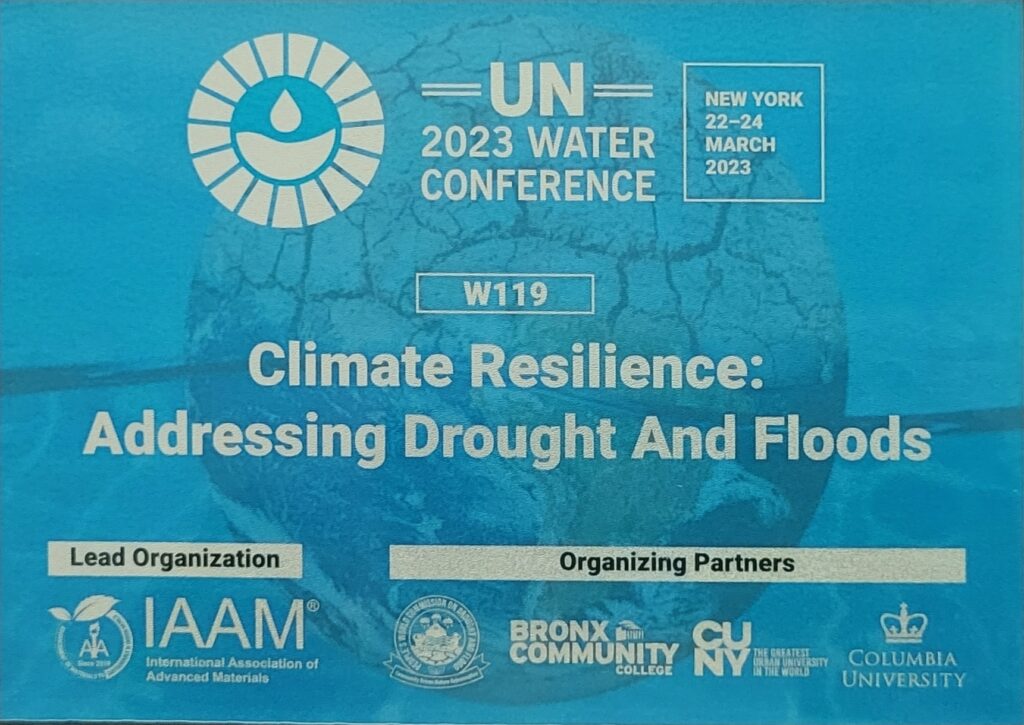 Dr. Thomas Isekenegbe, President of BCC, was among the dignitaries who delivered opening remarks. He thanked the international audience for choosing BCC for the conference and welcomed them to the historic campus.
The keynote address was given by Mr. Rajendra Singh, Chairperson of the Peoples World Commission for Drought and Flood in Rajasthan, India. Dr. Singh, a renowned India water conservationist and environmentalist and commonly known known as "The Waterman of India", is the winner of the Stockholm Water Prize in 2015.  He detailed his work in Rajasthan changing the climate thereby turning deserts into lush green environments.
There were three panel discussions. The first focused on Science and Society and featured Dr. Dimirti Katehis, New York City Department of Environmental Protection, who highlighted what NYC learned from hurricanes Ida and Sandy and what protocols are now in place to protect the City's infrastructure from these types of events.
The second session addressed Indigenous Knowledge System and Local Wisdom. Professor Sen outlined the work that BCC has undertaken in India including the installation of nine weather stations in four states of India to support their climate change work there. Dr. Naresh Devineni of the CUNY CREST Institute also presented on his work on water risk and sustainability for India
The final session detailed – "Advanced Technology to Combat Drought and Flood: was co-chaired by Dr. Neal Phillip and Dr. Vasil Diyamandoglu of the City College of New York (CUNY).
CUNY CREST Institute Executive Director, Dr Reza Khanbilvardi provided the closing remarks for the event. He cited all the important work that CUNY CREST Institute is doing in the space of climate change. He also indicated how delighted he was that the International Collaborations and Global Networking Pillar of the CUNY CREST Institute that has only been recently established, has grown in strength so quickly to be able to bring such an important event to BCC and CUNY. Prof. Phillip is co-Director and Prof. Sen is co-Associate Director of this Pillar.
Altogether, 128 participants attended the event in person and another 32 participated through Zoom.