Powerpoint Presentations
Click below for the description/details for each of this year's summer projects .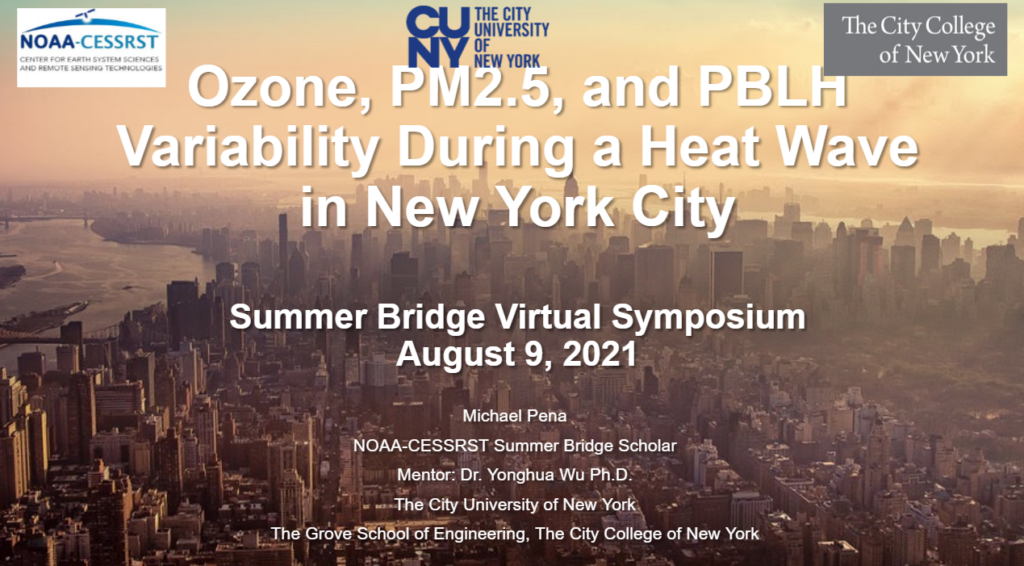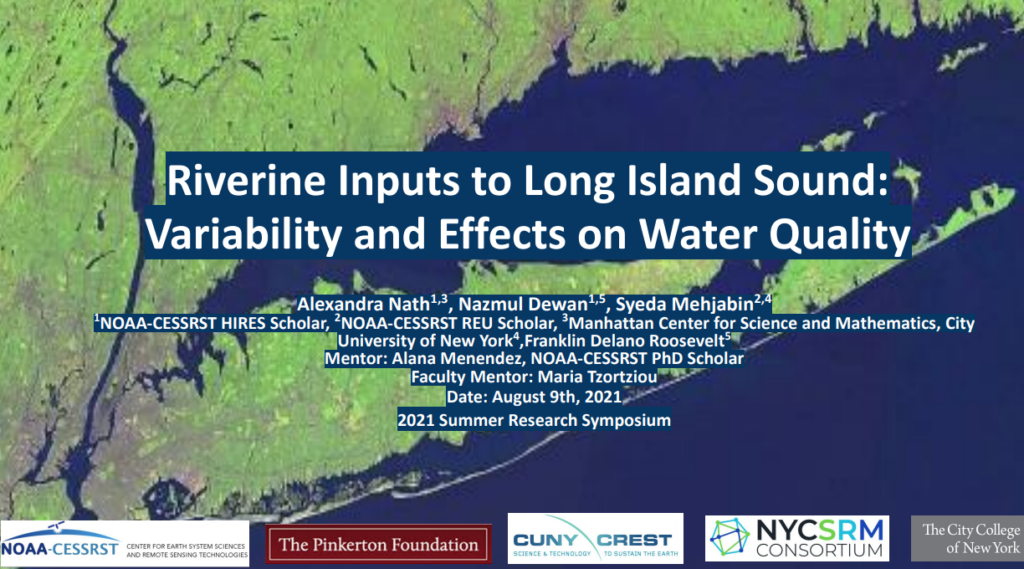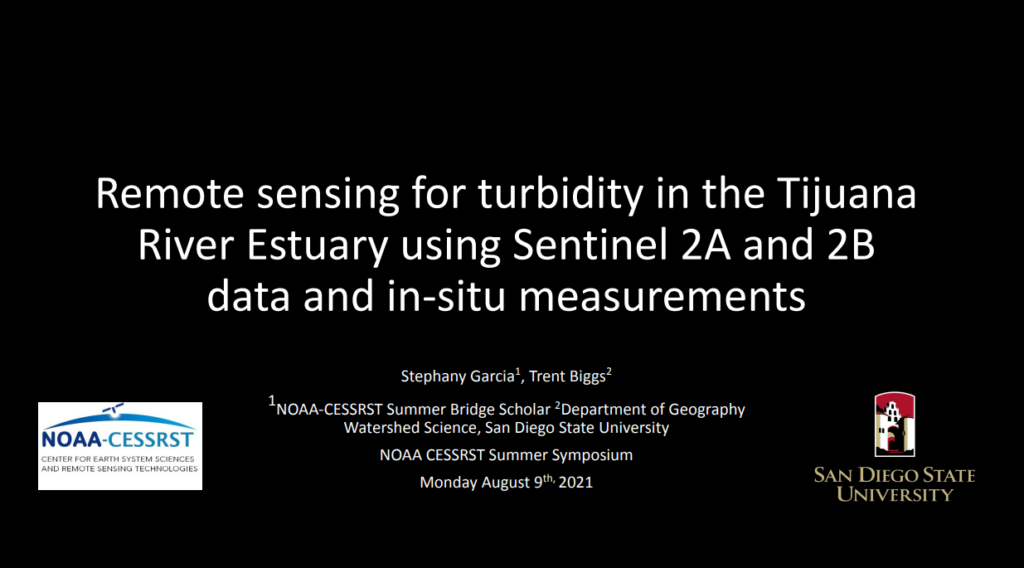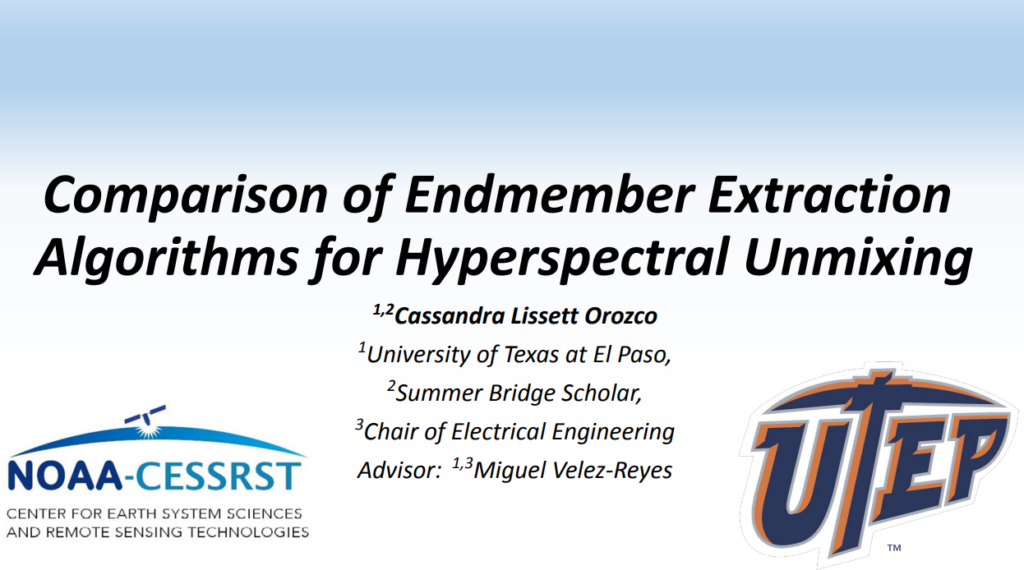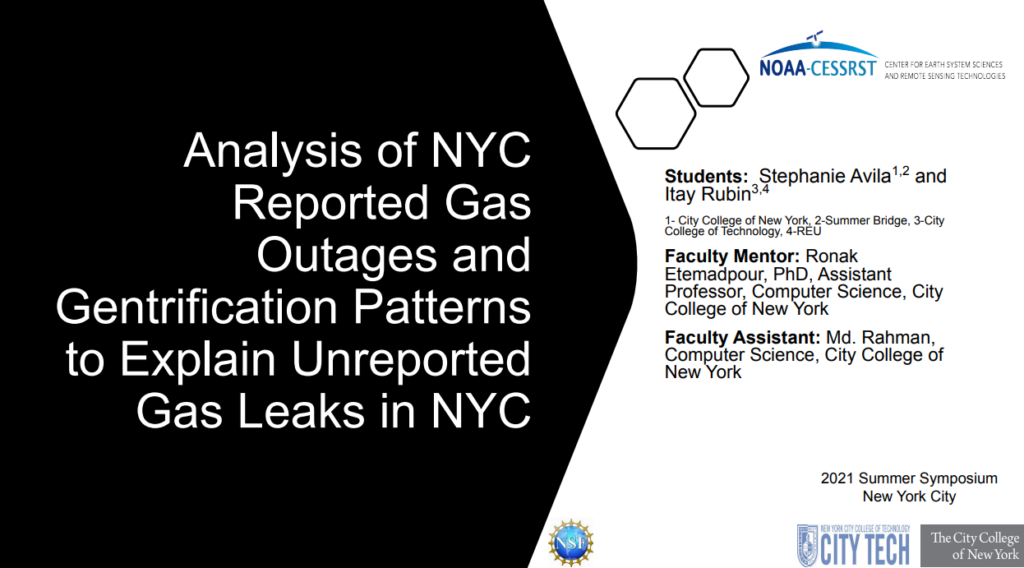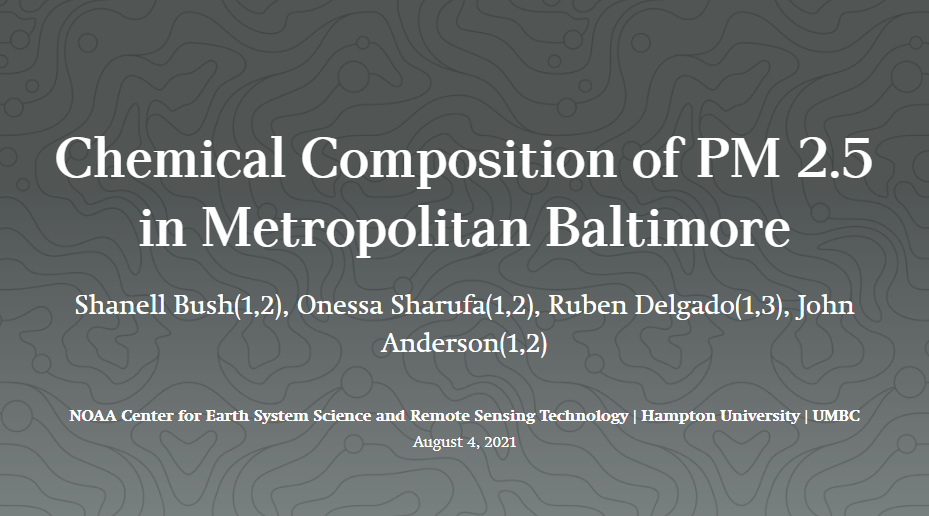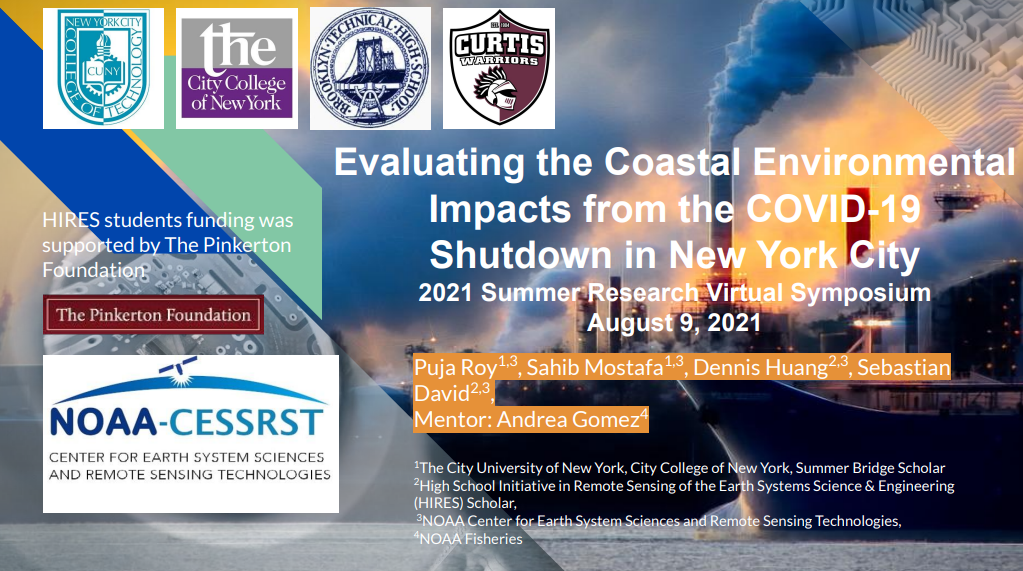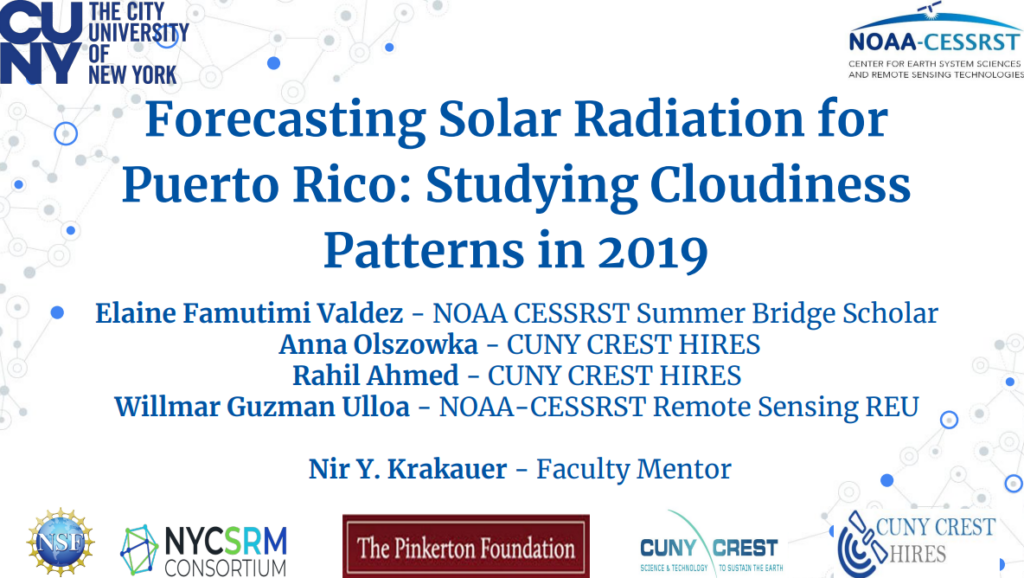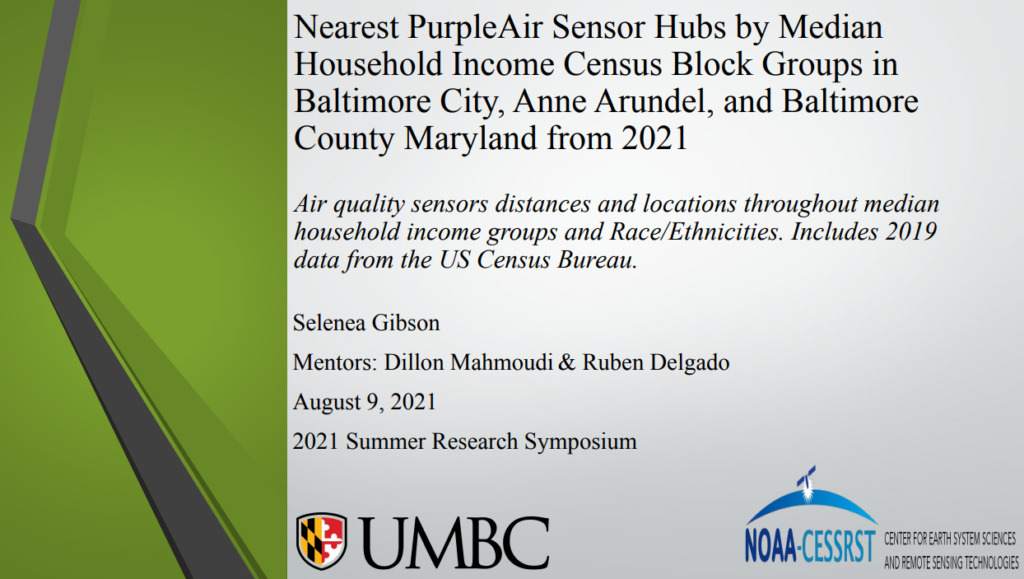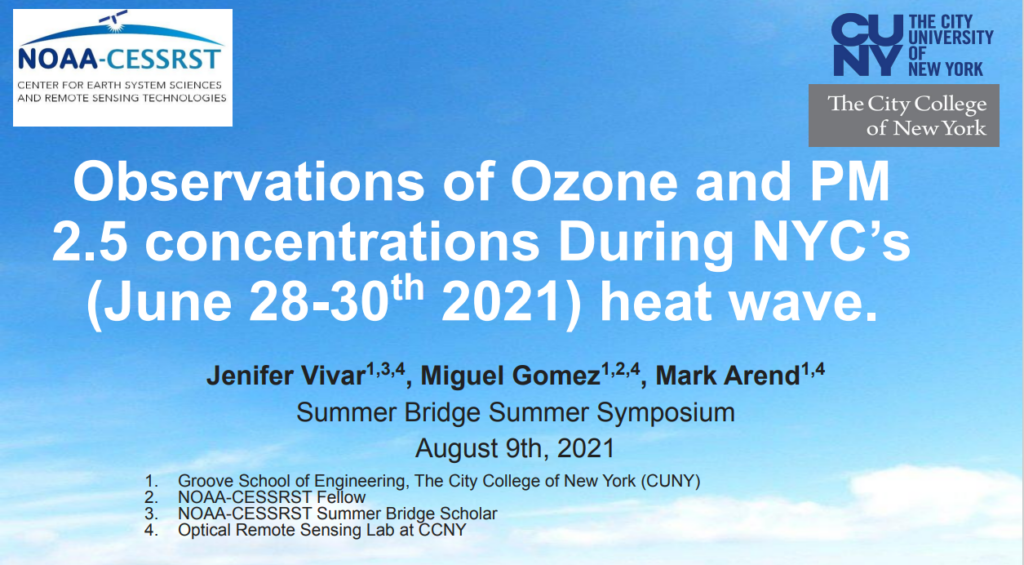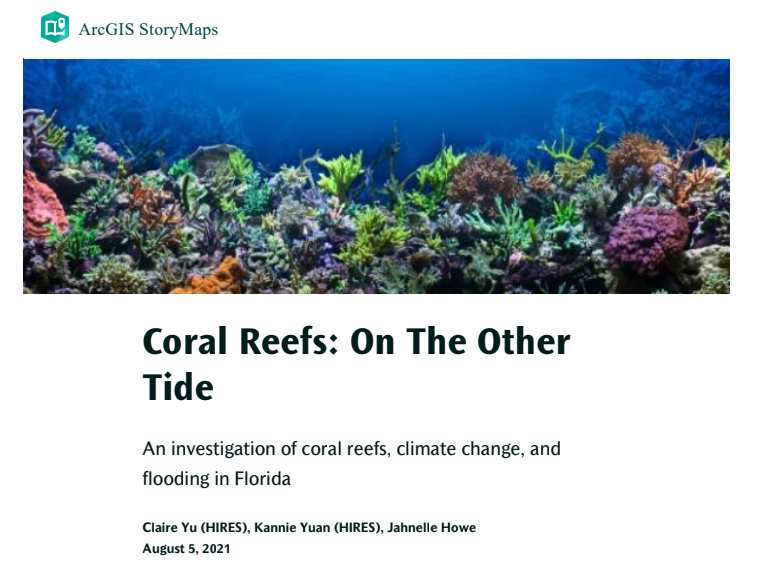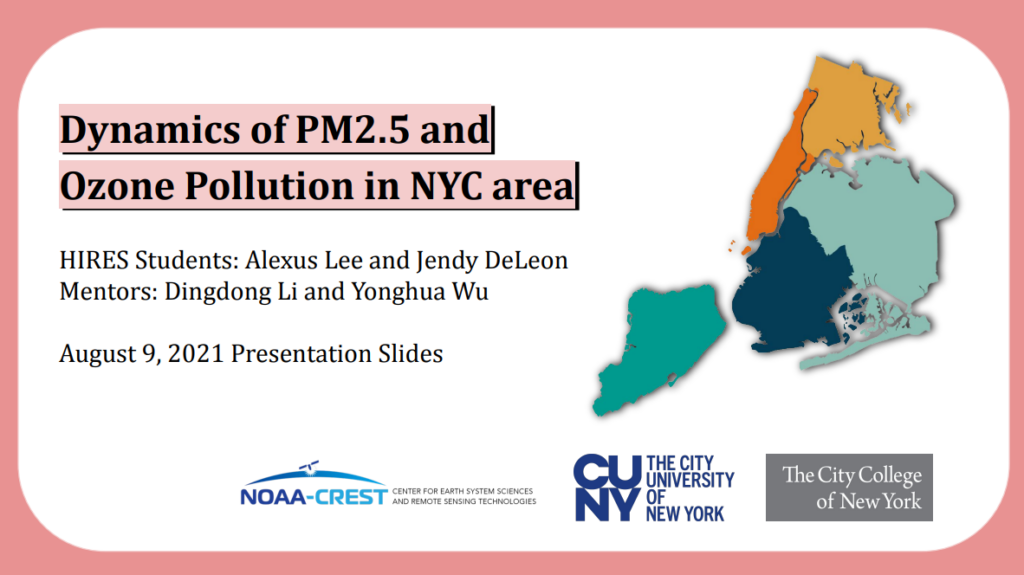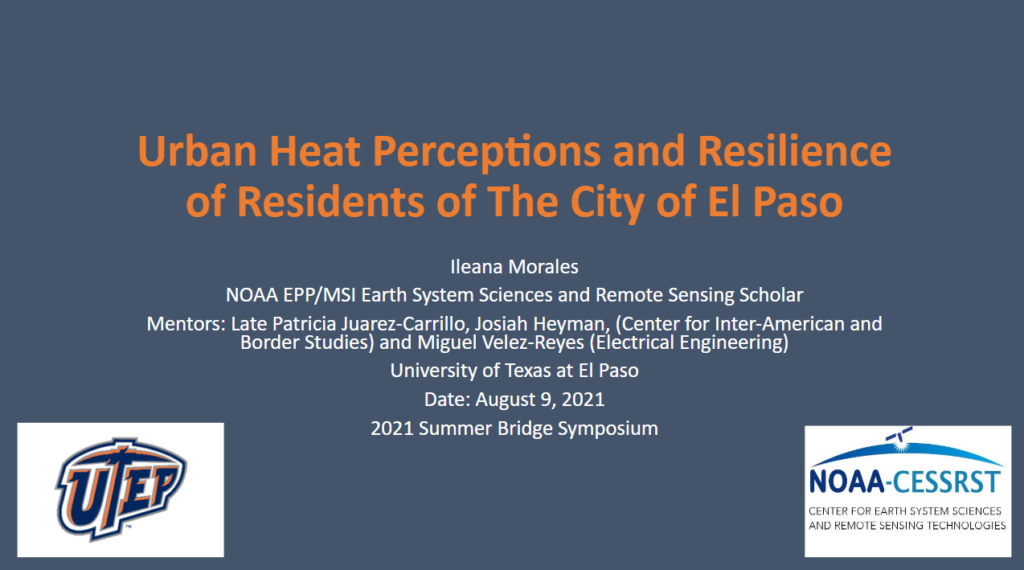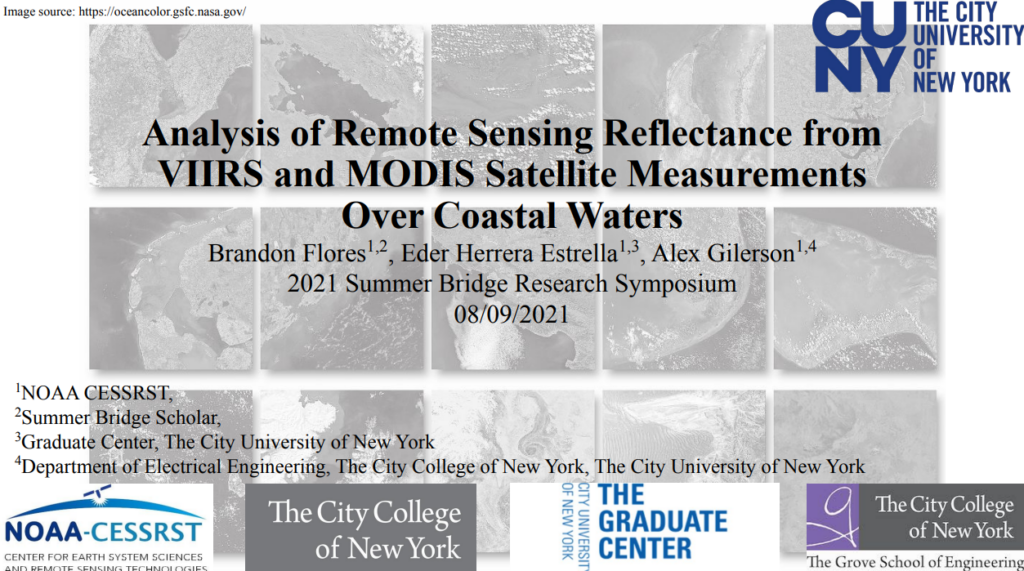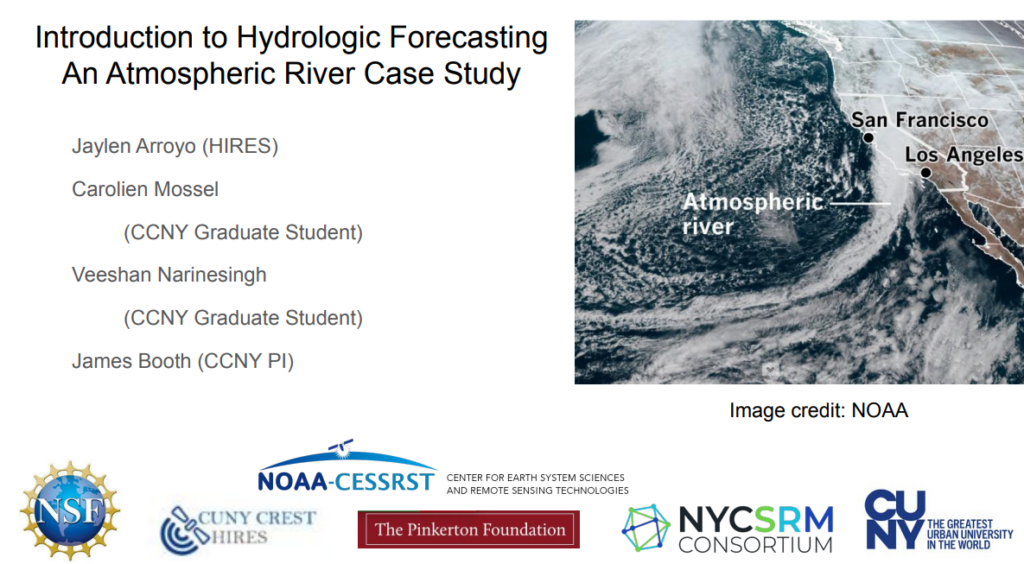 Research Project Title
Faculty/Staff Mentor
Other Mentor(s)
SB/REU & HIRES
CUNY
Dynamics of PM2.5 and
Ozone Pollution in NYC area
Dingdong Li, Yonghua Wu
Alexus Lee and Jendy DeLeon
Ozone, PM2.5, and PBLH Variability During a Heat Wave in New York City
Yonghua Wu
Michael Pena
Rain, Rivers, and Computers: An introduction to operational hydrologic modeling
Jimmy Booth
Carolien Mossel
Coral Reefs: On The Other
Tide
Jahnelle Howe
Claire Yu, Kannie Yuan
Analyzing Anthropogenic and Climate Trends on Regional Farms
Tarendra Lakhankar/ Naresh Devineni
Caroline Schwab
Kevin Byun, Rebecca Merber, Amy Delgado, Fambougouri Diane, MD Karim

Drought Climatology and
Impacts in the Northeast:
Case Studies for New
Jersey and Delaware
Nir Krakauer / Tarendra Lakhankar
Leulaye Maskal
Rabeca Mohammed (REU Scholar)
Comparison of NOAA's Precipitation Products using NYC-uHMT Data
Tarendra Lakhankar
Jake Longenecker, Dimitri Ambroise, Fatima Karami, Daniel Ugo-Omenukwa, Amanda Zhong, Rita Okonya
Developing Urban Weather Data Communication Tools for Society
Tarendra Lakhankar
Data Science Approach to NOAA Stakeholder and User Experience (UX) Survey and Feedback
Tarendra Lakhankar/ Shakila Merchant
How is water distributed throughout Califronia?
Ronak Etemadpour
Abdul Ashaif, Karen Tam, Md Rahman
Riverine inputs to Long Island Sound: Variability and effects on water quality
Maria Tzortziou
Alana Menendez
Alexandra Nath, Nazmul Dewan, Syeda Mehjabin
Analysis of Remote Sensing Reflectance from VIIRS and MODIS Satellite Measurements Over Coastal Waters
Alex Gilerson
Eder Herrera
Brandon Flores
Evaluating the Coastal Environmental Impacts from the COVID-19 Shutdown
Andrea Gomez
Puja Roy, Sahib Mostafa, Dennis Huang, Sebastian David
Gas Leak and Gentrification in NYC
Ronak Etemadpour
Amir Toliyat
Forecasting Solar Radiation for Puerto Rico: Studying Cloudiness Patterns in 2019
Nir Krakauer
Elaine Famutimi, Anna Olszowka, Rahil Ahmed, Willmar Guzman Ulloa
Downscaling Methodology For Satellite
Land Surface Temperatures Over Urban Environments
Hamid Norouzi
Abdou Bah
Nadia Sultana, Sergine, Michael Kamela, Oneil Mahoney
Studying Global Lakes Surface Temperature Variability using Satellite and In-Situ Observations
Hamid Norouzi
Abdou Bah
Christal Jean-Soverall, Olga Privman, Arjuman Hossain, Daniel Ochoa, Phoebe Sanders & Elizabeth Woo
Analysis and Observations of Atmospheric Dynamics
Mark Arend
Mitigating Water Risk for Businesses in California
Indrani Pal
Socioeconomic
Status and its
Correlation to
Urban Air Pollution
Exposure
Fred Moshary
Jessica Chen
Climate change, ocean cidification and the effects on coral reefs
Karin Block
Jahnelle Howe
SDSU
Remote sensing for turbidity in the Tijuana River Estuary using Sentinel 2A and 2B data and in-situ measurements
Trent Biggs
Stephany Garcia
UTEP
Comparison of Endmember Extraction Algorithms for Hyperspectral Unmixing
Miguel Velez-Reyes
Cassandra Lisset Orozco
Urban Heat Perceptions and Resilience of Residents of The City of El Paso
Miguel Velez-Reyes
Josiah Heyman, Patricia Juarez-Carrillo
Ileana Morales
UMBC
Rawinsonde Estimation of Mixing Layer Height
Ruben Delgado
Raisa Rodríguez, Rahim Kamara
Hampton
Chemical Composition of PM
2.5 in Metropolitan Baltimore
Ruben Delgado
John Anderson
Shanell Bush, Onessa Sharufa
UPRM
Ruben Delgado
Rafael Rodriguez Solis
Project Description
Click below for the description/details for each of this year's summer projects .
Research Project Title
Faculty/Staff Mentor
Other Mentor(s)
SB & HIRES
Abstract
CUNY
Rain, Rivers, and Computers: An introduction to operational hydrologic modeling
Jimmy Booth
Carolien Mossel
Download
Analyzing Anthropogenic Influences on Farm Output & Yield Behavior
Tarendra Lakhankar/ Naresh Devineni
Caroline Schwab
Download
Drought Climatology and
Impacts in the Northeast:
Case Studies for New
Jersey and Delaware
Nir Krakauer / Tarendra Lakhankar
Leulaye Maskal
Download
Comparison of NOAA's Precipitation Products using uHMT data
Tarendra Lakhankar
Download
Developing Urban Weather Data Communication Tools for Society
Tarendra Lakhankar
Download
Data Science Approach to NOAA Stakeholder and User Experience (UX) Survey and Feedback
Tarendra Lakhankar/ Shakila Merchant
Download
Analysis of HIRES Recruitment and Impact Analysis: A Data Science Approach
Tarendra Lakhankar/ Shakila Merchant
Download
Riverine inputs to Long Island Sound: Variability and effects on water quality
Maria Tzortziou
Alana Menendez
Download
Estimation of uncertainties of OC satellites by comparison with AERONET-OC data
Alex Gilerson
Eder Herrera
Download
Evaluating the Coastal Environmental Impacts from the COVID-19 Shutdown
Andrea Gomez
Download
Gas Leak and Gentrification in NYC
Ronak Etemadpour
Amir Toliyat
Download
Monitoring and forecasting solar radiation in Puerto Rico
Nir Krakauer
Download
Development of Downscaled Urban Land Surface Temperature for New York City
Hamid Norouzi
Abdou Bah
Download
Analyzing Lakes Surface Temperature Variability at the Global Scale
Hamid Norouzi
Abdou Bah
Download
Analysis and Observations of Atmospheric Dynamics
Mark Arend
Download
Mitigating Water Risk for Businesses in California
Indrani Pal
Download
Applications of Optical Remote Sensing
Fred Moshary
Download
Climate change, ocean cidification and the effects on coral reefs
Karin Block
Jahnelle Howe
Download
SDSU
Using Google Earth Engine to map hotspots of agricultural change during droughts along the US-Mexico border
Trent Biggs
Download
UTEP
Atmospheric Compensation of World View Imagery over Alaska
Miguel Velez-Reyes
Sergio A. Vargas-Zesati
Download
Citizen Perceptions on Urban Heat in El Paso
Miguel Velez-Reyes
Josiah Heyman
Download
UMBC
Ruben Delgado
Download
Hampton
Ruben Delgado
John Anderson
Download
UPRM
Ruben Delgado
Rafael Rodriguez Solis
Download